International Career: Successfully Transition into an International Role
Transitioning from a local role into an international position can be exciting but also challenging. By equipping yourself with the necessary knowledge, cultural insights and corporate understanding, you will avoid common pitfalls, better navigate the organization and accelerate your international career.
Abschluss

HWZ Academy-Certificate «International Management: Successfully transition into an international role»

Anerkennung

You can achieve 1 ECTS credit point (with a transferwork à CHF 300)

Dauer

1 day (9.00 a.m. to 04.45 p.m.)

Daten

Tue, 12 March 2019

Anzahl Teilnehmende

max. 16 participants

Studienort

Zurich; Sihlhof

Sprache

English

Kosten

CHF 990 incl. seminar documents, coffee breaks and lunch
CHF 300 for the transfer work (optional)
Download der Studienunterlagen: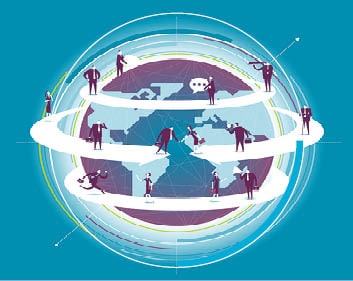 Beschreibung
Success at the international level requires an understanding of organizational design, cross-border collaboration, working through new hierarchy levels, cultural understanding and potentially new communication styles.

Your benefits
This seminar gives you a strong understanding of what goes on in an international environment and how to ensure your «localness» does not become a liability. Through open discussions and group work, you will get a toolkit to shorten your transition period at the international level, allowing your skills and competencies to shine.

Fee
In the price of CHF 990 are included: documents, coffee breaks, lunch. The optional transfer work «Transfernachweis zur Erreichung der ECTS-Punkte» is added by CHF 300 (optional).
Participants
You aspire to work at the international level, either in Switzerland or abroad. You have recently joined an international company and have experienced some initial challenges and are looking for guidance and solutions. This seminar is suitable for all levels across all industries.
(max. 12 participants).
The following courses might be interesting for you:
HWZ Academy Seminares
Here you get to the choice of our seminars in the following themes:
Banking & Finance
Consulting & Innovation
Digital Transformation
Communication
Management HR & Leadership
Marketing & Sales
Aufbau und Inhalt
Key content
In this one day seminar, we will focus on two key areas:
Understanding the key challenges you can expect to face when starting in an international role
Preparing you to successfully overcome the major obstacles that could potentially impact your career
We will cover the following:
Organizational Design
Centralized vs. decentralized
Matrix structures
Corporate functions, shared services and lines of business
Cross-border Collaboration
Working regionally and globally
Working virtually
International travel
Company Culture
Communication styles
Operational vs strategic mindset
Meeting culture and teamwork
Corporate politics
Seminar Leader
Kelly Brändli is Founder and Managing Director of MTS Talent Services, an HR services company. She brings a wealth of experience in the search, selection, and integration of employees into international teams.
Inhouse-Seminar
This seminar is also available firm intern in various languages (G/E/F), incl. Inhouse-Certification. We are glad to advise you and are looking forward to getting in contact with you.
Karriere
The doors we open and close each day decide the lives we live.
Jetzt anmelden für International Career: Successfully Transition into an International Role
Anmelden
Wir sind für Sie da
Antworten zu oft gestellten Fragen finden Sie auch in unseren FAQ.